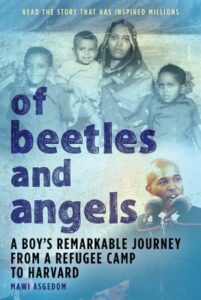 I was afraid Of Beetles and Angels
would be really horrifying and sad, given that it is about a boy who walked out of war-torn Ethiopia at the age of 3, spent several years in a refugee camp in Sudan, and then grew up poor in Chicago.
Instead, this memoir for young adults is full of hope. It is even full of fun and laughter. Mawi doesn't dwell on the horrors of being a refugee (perhaps because he doesn't remember them well). Instead, he talks about the mischief he and his friends got into in the refugee camp. One time Mawi was curious about whether he really could let the air out of a tire by pressing the air nozzle with a sharp stone. He tried it on a tractor, and lo and behold, it worked! The owner of the tractor was not happy.
He was reunited with his father in the refugee camp, and eventually the whole family was helped by World Relief, a U.S. Christian organization, to leave Sudan and resettle in Chicago. The title refers to advice his father gave him when they started their new life in the U.S. His father advised the family to always treat strangers kindly, even when they looked like "beetles" (beggars or misfits), because "they could be angels, given to us by God to test the deepest sentiments in our hearts" (p. 29).
In Chicago, Mawi and his siblings had to defend themselves against taunts and beatings by some classmates. Nevertheless, they eventually made friends, and sometimes got into serious mischief with these friends, such as the time they managed to knock down and steal a parking meter. They were almost caught by police.
Despite the mischief, Mawi did very well in school, and his counselors encouraged him to apply to the best colleges in the country. He hesitated at first, because his family was so poor, but finally decided to apply to eight top schools. He received scholarship offers from several, and he chose Harvard.
The memoir essentially ends with his acceptance to Harvard, although we do learn that he graduated cum laude and delivered the commencement address (which is printed in the book).
Ironically, the two saddest events in the book happened not in Ethiopia or in Sudan, but in the U.S.: the deaths of his older brother and his father, who were both killed by drunk drivers.
The book includes photos and Ethiopian recipes. While the memoir does discuss the political situation that led to his refugee status, that information is woven into the story of a boy who wants to have fun and do well in life despite challenges.
Mawi is currently an inspirational speaker. His web site is http://www.mawispeaks.com/