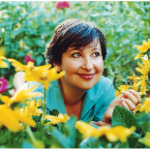 I laughed out loud while reading both of these books of autobiographical vignettes. Firoozeh Dumas was born in Iran and arrived in the U.S. with her family at the age of seven. She chronicles funny and sometimes poignant incidents as she and her family find their way among two cultures.
Funny in Farsi: A Memoir of Growing Up Iranian in America
(first published 2003)
In these 26 short essays, Dumas regales us with tales of her family's adventures with the English language, with well-meaning people who have no idea where Iran is or even how to pronounce it, and with their excursions to Disney Land, where the author manages to get lost.
Her trip to Paris, her wedding (to a Frenchman), and even her nose, are all rich fodder for her merriment. She even manages to inject humor into the time she and her family nearly got beaten up by anti-Shah demonstrators in Washington, DC.
One essay titled "The 'F word'" dealt with the various mispronunciations of the author's first name. "My name, Firoozeh, chosen by my mother, means 'Turquoise' in Farsi. In America, it means 'Unpronounceable" or 'I'm not going to talk to you Because I Cannot Possibly Learn Your Name and I Just Don't Want to Have to Ask You Again and Again Because You'll Think I'm Dumb or You Might Get Upset or Something" (p. 63) She has been called "ferocious" and "fritzy." For a time she changed her name to "Julie."
With a name like "Jyotsna" I could really relate. I've been called "Yotsna" and "goat's milk" and "Jocasta." I usually tell new acquaintances to call me "Jo." (By the way, you can hear me pronounce my name at Teachingbooks.net.)
Laughing Without an Accent: Adventures of a Global Citizen
(first published 2008)
I think the funniest piece in this book is called "Seeing Red," which is about a misadventure with a red quilt. Shortly after her marriage, the author's mother gives Dumas and her husband a bright-red quilt, which Dumas and her husband pretend to love to spare her mother's feelings. In an effort to get rid of it, Dumas washes it in hot water every week for six months, so that she can honestly tell her mother that the quilt had worn out. I won't tell you how this ends — you'll have to read it yourself.
Not all of the 28 vignettes in this book are funny. The last piece in the book, "444 Days," recounts some time Dumas spent with Kathryn Koob, a survivor of the Iranian hostage crisis. Koob and Dumas exchanged books, and Dumas visited Koob in her home state of Iowa. Dumas was very moved by the fact that Koob harbored no hatred towards Iranians, despite her ordeal.
Since the publication of her first book, Dumas has accepted speaking engagements for the purpose of "reminding us that our commonalities far outweigh our differences," according to her web site, www.FiroozehDumas.com.
Both of these books would be great companion reads with the short story collection My Name is Aram
by William Saroyan (which I reviewed in an earlier post). Both are about children of immigrants from the Middle East. Saroyan's book was first published in 1940.