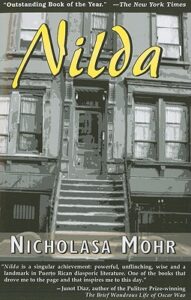 I've been wanting to read Nilda
for months, and when I finally got to it, I wasn't disappointed. This coming-of-age novel for young adults follows Puerto Rican American Nilda from the ages of 10 to 14, during the 1940s. First published in 1973, and selected as a "Best Book of the Year" by the American Library Association, it was re-issued in 2011 by Arte Publico Press of Houston, Texas, which specializes in literature by Hispanic authors in the U.S.
I loved the character of Nilda. She is artistic and compassionate, yet often naive about the poverty-ridden, dangerous and sometimes tragic New York City barrio she lives in. She falls in love with her drug-dealing brother's baby son, but once her sister-in-law leaves her brother, she never sees the baby again. She is shocked by the police brutality she witnesses.
Yet the book does not have a tragic or angry tone. In fact, it is filled with funny scenes, such as the anglo Spanish teacher at school who insists that the native Spanish speakers in the class have the wrong accent because they do not sound like Castilians from Spain. Nilda's favorite memory is a "secret garden" of roses she discovers at a summer camp she attends. This garden is a link in her mind to the flowers her mother grew up around in Puerto Rico.
Like her character Nilda, Nicholasa Mohr was born in New York City to parents from Puerto Rico. She has written novels and stories for children and adults.