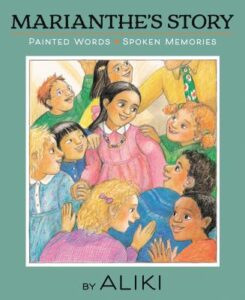 Marianthe's Story
is one of my favorite picture books. It's actually two books in one. The first, Painted Memories, tells the story of Marianthe soon after she moves from Greece to the U.S. and starts school without knowing English. She finally manages to communicate through the pictures she draws, including one that reveals her hurt feelings at being teased and called names.
In the second story, Spoken Memories, Marianthe knows enough English to tell her classmates about her life in Greece: the war, the famine, and the joy of springtime and celebrations. The family decides to leave Greece to come to the U.S. so Mari and her siblings would have a good education.
Aliki Liacouras Brandenberg is a well-known author of many picture books. Like Mari, she started life with Greek as her first language. Unlike Mari, she was born in the U.S.