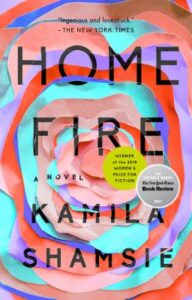 Home Fire
does not fit exactly into the premise of this site, because the novel is about second-generation Pakistani-British people, rather than second-generation Americans (which is my focus on this site). But I decided to review it because it speaks to important issues that are similar to both cultures. I can imagine Muslim-Americans going through similar difficulties as the characters in this novel.
Home Fire
, which won the 2018 Women's Prize for Fiction, is told from the points of view of five different Pakistani-British characters. The jacket flap copy is misleading, because it gives the impression that this book is mainly about Isma, a Londoner who is starting graduate school in the U.S.  While Isma is indeed one of the main characters, her section (a somewhat boring section, in my opinion) serves to introduce the other characters and the main conflict, which involves her brother, Parvaiz, a misguided young man who has been fooled into traveling to Syria and joining a terrorist group, and Parvaiz's twin sister Aneeka's quest to allow him to return to Britain once he manages to escape from this group. The novel is based on the Greek tragedy Antigone. Even the names are similiar: Isma is the counterpart to Ismene; Aneeka is Antigone; Parvaiz is Polyneices; Eamonn is Haemon; and Karamat is King Creon. You don't need to have read Antigone to appreciate this novel, but the parallels are interesting.
Like Antigone, Aneeka flouts the law of the land (laid down by British Home Secretary Karamat) that those who join terrorist groups abroad can never return to British soil. Isma, like Ismene, is inclined to want to obey the law, but also supports her sister. Antigone the play is very short, and we know almost nothing about the brother. In Home Fire
, we get a whole section about Parvaiz, giving insight into his decision to travel to Syria, and detailing his disillusionment and efforts to return to Britain. In the play, we know almost nothing about the love between Antigone and Creon's son Haemon, but in the novel Home Fire
, the love affair of Aneeka and Eamonn (Karamat's son) is well developed.
Home Fire
asks the questions: what is home? Who is allowed to become a citizen and remain a citizen, and under what reason? An interesting twist is that Karamat, the Pakistani-British Home Secretary, bends over backwards to disavow fellow Muslims who look and act in ways that show their differences from mainstream British people.
Once you get past Isma's tepid first section, this is a gripping, thought-provoking, and important work.