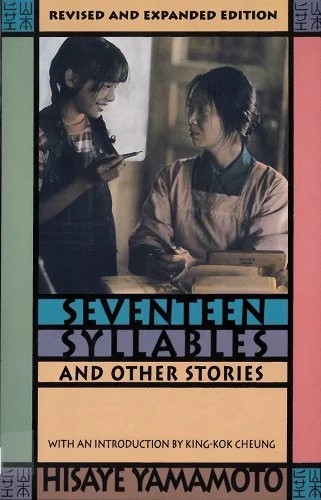 Hisaye Yamamoto was a Japanese American writer active from the 1940s to the 1990s. I decided to check out her book of stories after seeing it listed in this article, "The Best Books About Asian American Identity, According to Experts."
The stories (and a few essays) in this collection span the entire career of this insightful author. The earliest piece was first published in 1948, and the final story first appeared in 1995. Several of the stories are concerned with second-generation Japanese-Americans (called Nisei). Yamamoto herself was Nisei. Her parents (the Issei generation) were immigrants from the Kumamoto Prefecture in Japan.
My two favorite stories in this collection are "Seventeen Syllables," which is apparently Yamamoto's most anthologized story, and "Yoneko's Earthquake." Both stories are about Japanese-American girls growing up in farming families in California. In both stories, the girls are only dimly aware of the passions and ambitions of their Issei mothers who are both in difficult marriages. In "Seventeen Syllables," Rosie is aware that her mother has begun writing haiku, but her knowledge of Japanese is shaky and she is not able to fully appreciate her mother's art. In "Yoneko's Earthquake," young Yoneko develops a crush on their handsome Filipino farmhand without realizing that her mother is having an affair with him. In fact, the characters in these stories are so similar that they were combined into one movie, "Hot Summer Winds," directed by Emiko Omori and aired in 1991 on PBS American Playhouse. I very much enjoyed seeing the characters brought to life, particularly details of everyday life such as the process of sorting tomatoes, and the Japanese-style bathhouse. This movie is available through Turner Classic Movies and on YouTube, and is well worth watching. The cover of the book shows a still from this movie.
Yamamoto's style of writing is simple and understated. It's clear that she is fond of her characters, and sometimes views them with gentle humor. Here is her description of Rosie's mother when she first started writing haiku under the name "Ume Hanazono":
So Rosie and her father lived for awhile with two women, her mother and Ume Hanazono. Her mother [Tome Hayashi by name] kept house, cooked, washed, and, along with her husband and the Carrascos, the Mexican family hired for the harvest, did her ample share of picking tomatoes out in the sweltering fields and boxing them in tidy strata in the cool packing shed. Ume Hanazono, who came to life after the dinner dishes were done, was an earnest, muttering stranger who often neglected speaking when spoken to and stayed busy at the parlor table as late as midnight scribbling with pencil on scratch paper or carefully copying characters on good paper with her fat, pale green Parker (p. 9).
Seek out this gem of a book. And check out this series of interviews with the soft-spoken Hisaye Yamamoto. By the way, the Google Doodle on May 4, 2021 featured Hisaye Yamamoto!