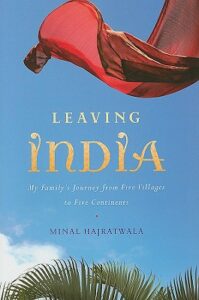 This unusual memoir is subtitled: My Family's Journey from Five Villages to Five Continents. Hajratwala's family originated in five villages in Gujarat, a western state of India. In her great-grandparents' and grandparents' generations, ancestors migrated to Fiji and Africa. Her parents met in Fiji, and they in turn immigrated to the United States, with an interlude in New Zealand. Other relatives moved to Canada, Australia, Great Britain, and Hong Kong.
Hajratwala spent eight years interviewing almost 100 relatives, friends, and community members to write this book. The author is both a journalist and poet by profession, and this combination perhaps helps her breathe life into long-dead ancestors, and to weave their bits of stories into the larger historical picture.
Leaving India
starts with the story of Motiram, who left his village, his wife, and his children to settle in Fiji and become a successful tailor. Connections with India were never severed, however, so money and people traveled back and forth. She continues with the story of Ganda, who as an 11-year-old boy traveled as a stowaway from India to South Africa, where he had relatives. He became a successful restaurant owner and invented a dish called "bunny chow," which involves stuffing a small loaf of bread with curry.
I was expecting her to tell more of her own story as a lesbian South Asian woman growing up in New Zealand and Michigan. While she does touch on her story, she focuses much more on her relatives. Towards the end she tells a wrenching story of a migration that didn't happen. Jaydeep, the son of her cousin, desperately wants to leave India and settle in the U.S. He begs Hajratwala and her family for help, and is frustrated that they are powerless to aid him in any concrete way.
Although this memoir is about one woman's family, it is in fact in some ways the story of all of us. This particular family's story illustrates the fact that migration is part of humanity.