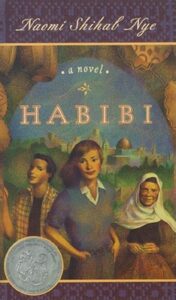 Before I read Habibi
, I assumed the title was the name of the main character. In fact, the word "habibi" means "darling" in Arabic. The main character, 14-year-old Liyana, explains that her Palestinian-born father "said it as good morning or tucked between sentences. He said it when they left for school. Whatever else happened, Liyana and Rafik were his darlings all day and they knew it" (p. 213).
Habibi
tells the story of Liyana's move with her family from St. Louis, Missouri to Jerusalem. Her father wants his children to know their Palestinian relatives. Her American-born mother, Susan, wants to see the country where Jesus lived. Nye herself is the daughter of a Palestinian father and an American mother.
Naomi Shihab Nye is well known for her poetry, and indeed this novel is written in a poetic manner. It strings together short vignettes of a few pages to reveal the wonder, and sometimes the terror, of everyday life in Palestine/Israel. This novel reminds me of The House on Mango Street
by Sandra Cisneros.
The book's plot concerns how Liyana will adjust and adapt to this new country. More important than the plot, however, are the characters, the sensory details, and the spiritual and philophical insights Liyana gains.
One of the strongest characters in this book is Sitti, Liyana's grandmother. Liyana's father, a medical doctor, is skeptical of his mother's magical stories and spiritual healing, but Liyana is fascinated. When Liyana invites her new Jewish boyfriend to the family's village home, Sitti welcomes him enthusiastically, declaring "We have been waiting for you for a long time" (p. 258).
This beautiful novel is appropriate for middle school and high school students, but will be enjoyed by adults as well.