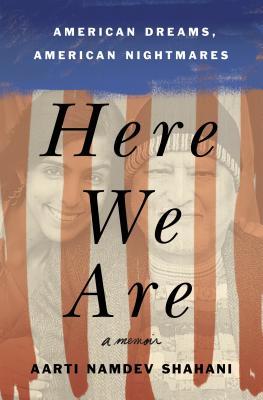 When we think of the words "undocumented" and "deported," often the stereotype that comes to mind is an immigrant from Mexico or Central America. In contrast, the stereotype of South Asian Americans is that we are highly educated tech wizards who arrive legally in the United States. And on the surface, Aarti Shahani fits the stereotype: she is a highly educated tech reporter for NPR.
In fact, as Shahani reveals in Here We Are, her heart-wrenching, gripping memoir, her family was undocumented for a time when they overstayed their visa. And after her father and uncle were wrongfully arrested for allegedly helping a drug cartel to launder money, her family was caught up in a years-long battle to prevent her father's imprisonment and deportation, despite the fact that he was a legal permanent resident by then.
Shahani's parents arrived in the U.S. after already having lived in a number of countries, including India and Morocco, where Shahani was born. Both her parents speak multiple languages. The family landed in Queens, NY, where they made strong friendships with other immigrants in their crowded, roach-infested building. Her father opened his own wholesale electronics store, and her mother picked up work as a seamstress. Studious Shahani was awarded a full scholarship to a prestigious, expensive private girls' school in Manhattan. The family was on its way to fulfilling the American Dream.
Then, police officers visited the store, questioned her father and uncle, and confiscated thousands of dollars in cash. While her classmates enjoyed luxurious vacations, Shahani worked summer jobs and found lawyers for her father and uncle, striving to keep them out of jail. At the time, it was difficult for anyone in the family to understand what was really happening. Years later, Shahani uses her reporting skills to uncover the truth around her father's wrongful arrest and imprisonment.
Shahani paints vivid portraits of each family member, from her parents, who call each other "dahling" and give their earnings to each other at the end of each day, to her overbearing uncle who tries to force Shahani to be more submissive, to her older brother and sister, who tease, fight, and support each other. Through the compelling story of Shahani's family, Here We Are opens the curtains on the U.S. immigration system which beckons to those who want a better life, while also meting out heavy-handed and often arbitrary punishment for perceived infractions.